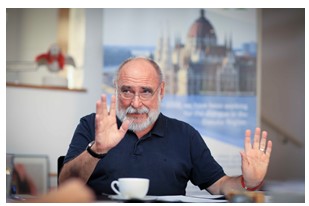 "Europe on the Danube. Society, Politics and Culture on the Great River"
Speaker: Prof. Peter Langer, Danube Academy
The Danube is the only European river that flows from west to east. On its almost 2900 kilometre long course, it forms the axis of Central and South-Eastern Europe and connects the Black Forest with the Black Sea – a unique European phenomenon.
Since the global political change of 1989/90, the river has flowed through ten European states; they represent one of the most significant socio-economic potentials within Europe. The Danube connects old democracies – in the West – with still young democracies in the East, developed social market economies with economic transition systems that still have to eliminate the remnants of failed planned economies with each other … and all in flux.
The lecture offers a journey along the most important European river: through politics, society and culture of the Danube countries. In view of Putin's terrible war of aggression, Ukraine will play a special role.
The lecture is organised in the frame of VIVES@BW and will therefore be in German – translation can be provided in English, Ukrainian & Romanian.
Access data for Zoom:
https://us02web.zoom.us/j/83717789494?pwd=aHZ0K3lJR2ltRUZQU3ZmbHNTOEFhdz09
Meeting ID: 837 1778 9494, ID code: 961938