Green where you do not expect it
Bulgaria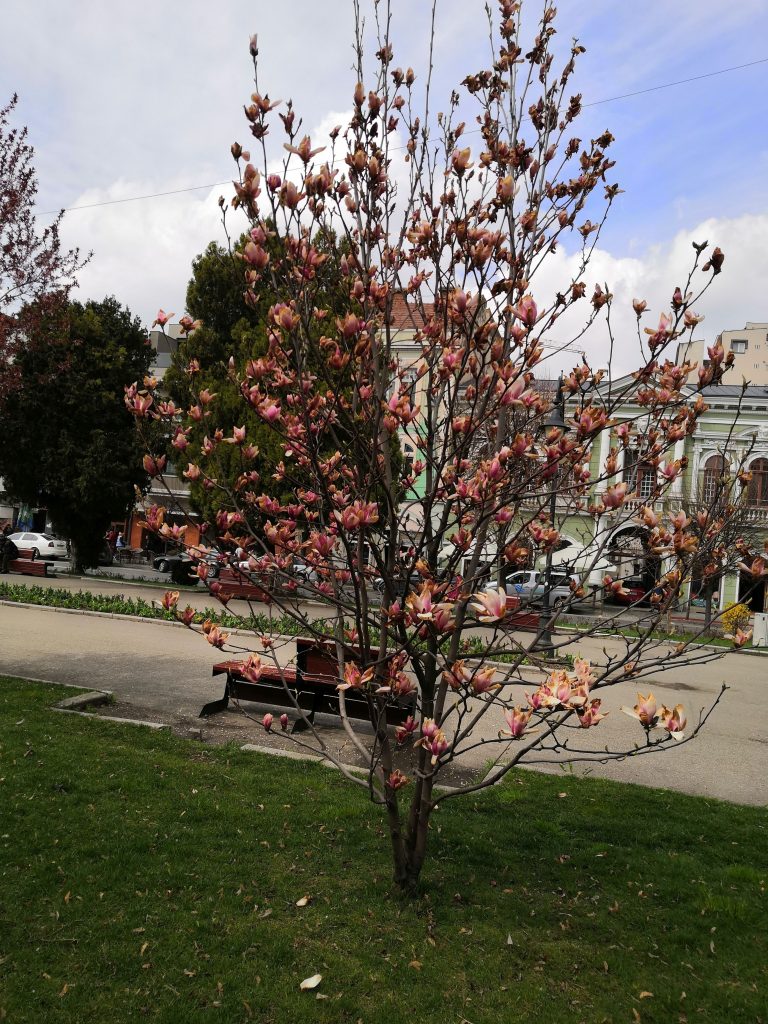 BG-3 IMG-3
In March-April 2023, I was an invited lecturer at the Department of Mathematics and Informatics, located with several other
departments and very rich libraries in one of the buildings of "George Emil Palade" University of Medicine, Pharmacy, Science and
Technology of Targu Mures, Romania. It was a pleasure for me to walk from the guest apartment to the building, passing a street
with many trees (not green at that time), benches for rest, very beautiful large public buildings built during the time of the Austro-
Hungarian Empire, and tiny private houses decorated with whimsical figures, arches, bay windows, etc.
Emiliya Velikova, Ruse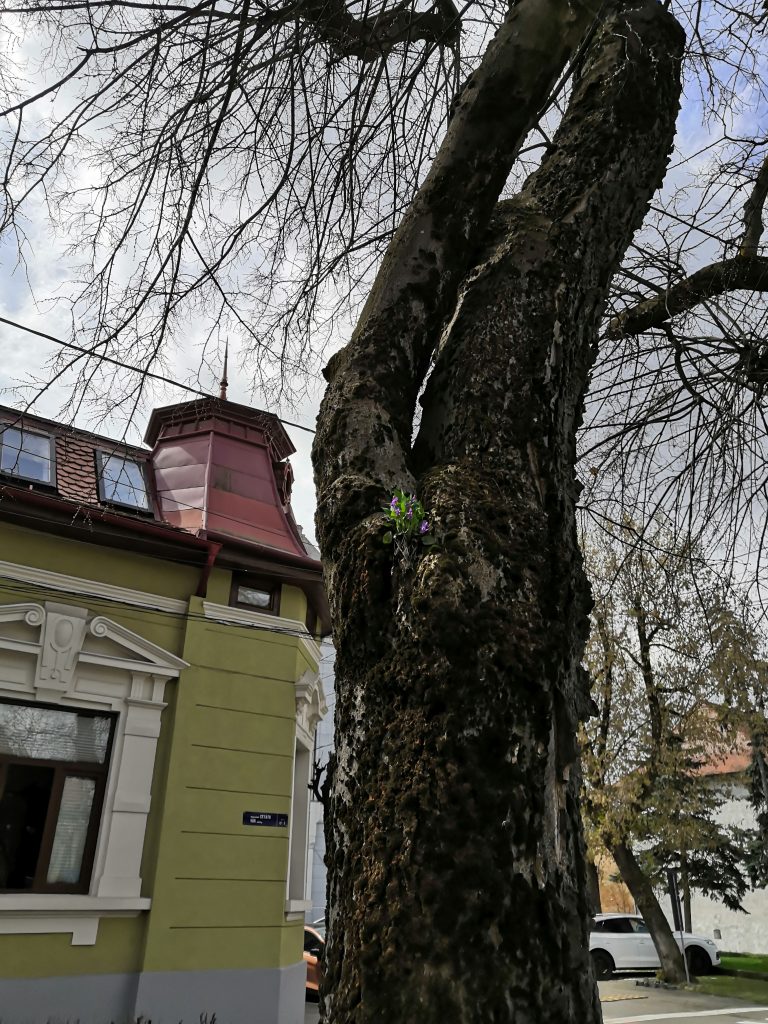 BG-3 IMG-4
One day I noticed on a very
old tree something green that was too high for me to get a good look at it or take a closer picture of it. I took a photo as best I could,
and when I enlarged it, I couldn't believe my eyes – a delicate violet with green petals and gorgeous violet flowers had sprouted on
the wrinkled trunk of the old tree. A woman got up from a nearby bench and said to me – I was very much wondering why you were
looking at this old tree, but I see that you have discovered a real natural wonder that I have not noticed, although I rest on this
bench every day. A little violet brought two women together, made them happy, and probably gave a new meaning to life to the old
tree.
Emiliya Velikova, Ruse
Germany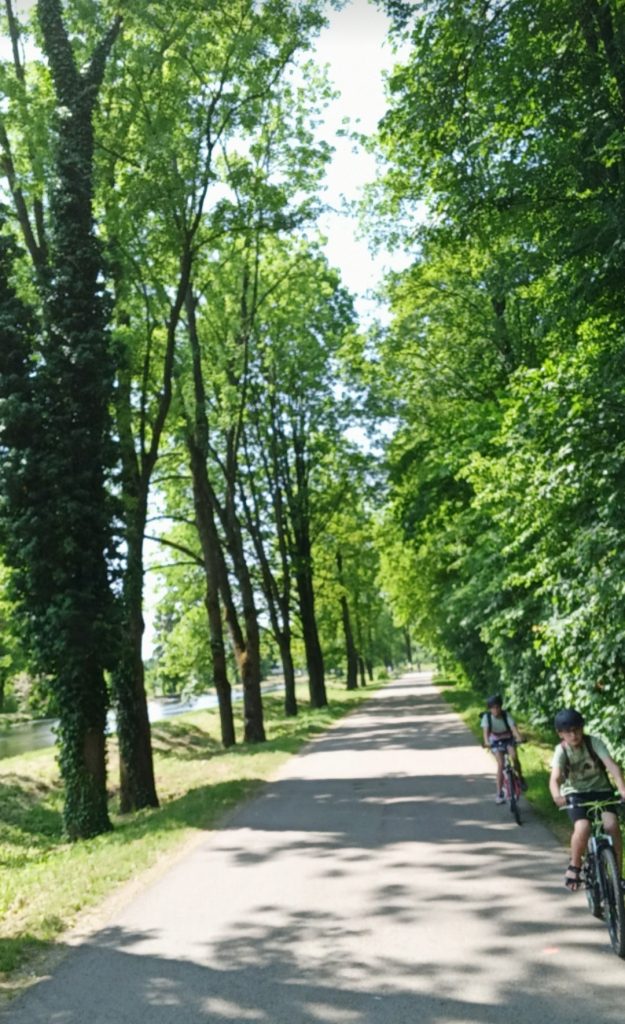 DE-19 IMG-3
Direct in Ulm.
Christin Witzler, Erbach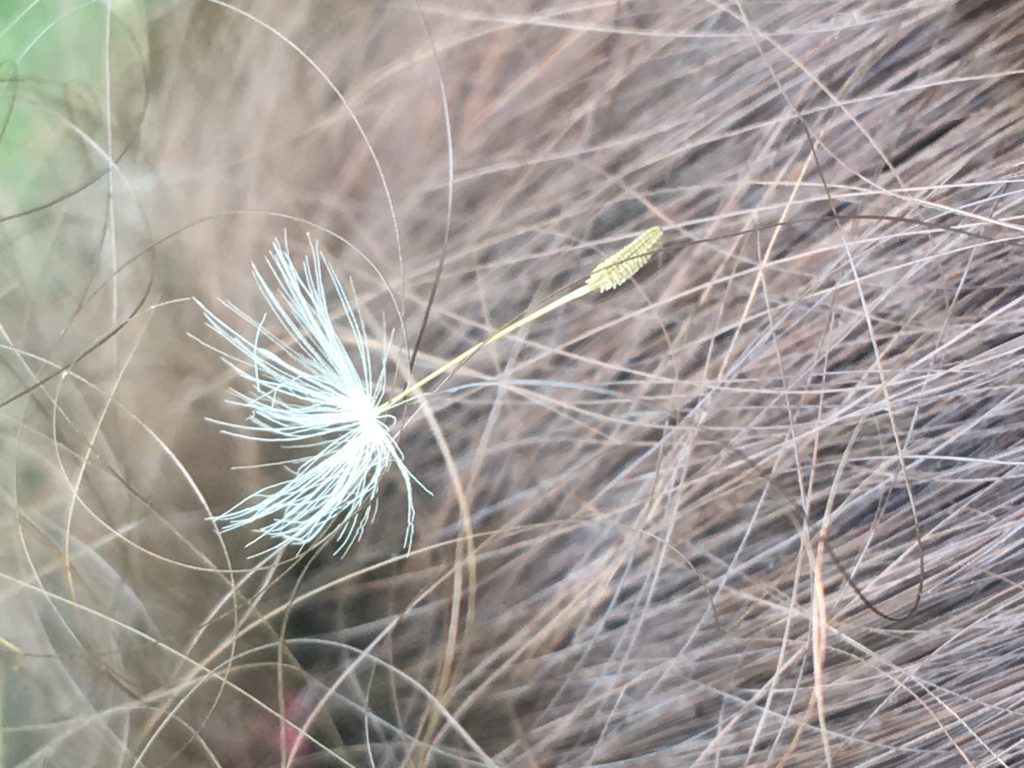 DE-20 IMG-3
All living things want to live. A small seed of a bright sunny dandelion found a home in the girl's hair. To get her to the flower alley as
quickly as possible.
Dana Sidko, Ulm / Ukraine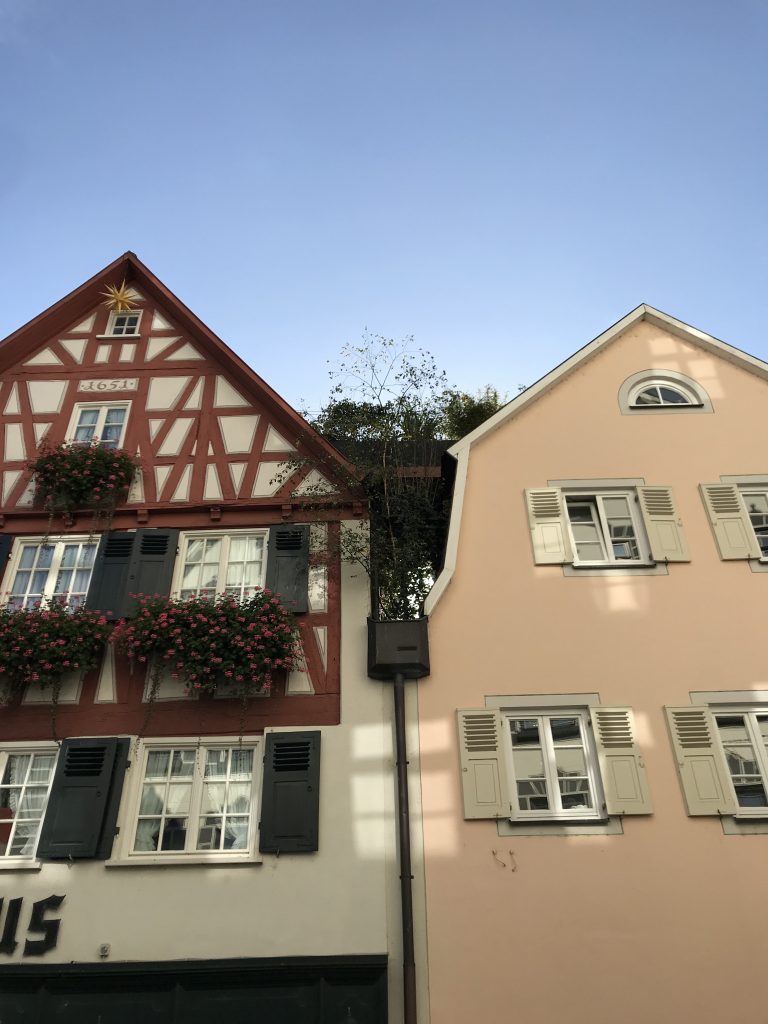 DE-15 IMG-3
The necessity for more green in the cities is the mother of invention.
Susanne Steck, Ulm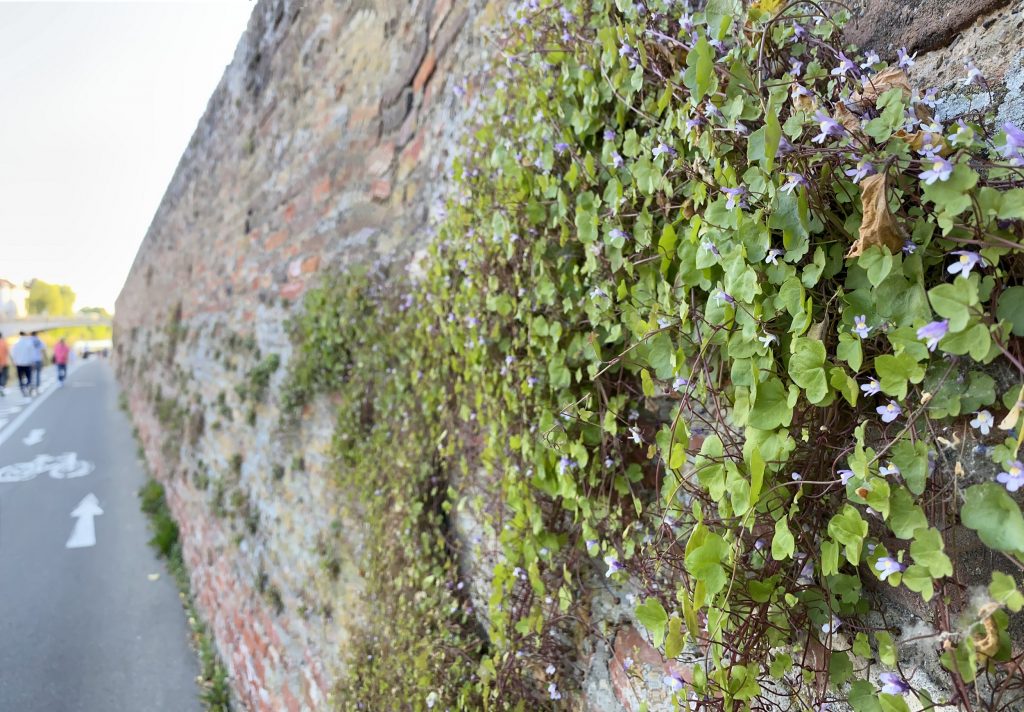 DE-17 IMG-3
The wall blossomed.
Nature comes to man even through built-up walls and walls.
Flowers bloom for fun and joy.
Roman Varshavsky, Ulm/Ukraine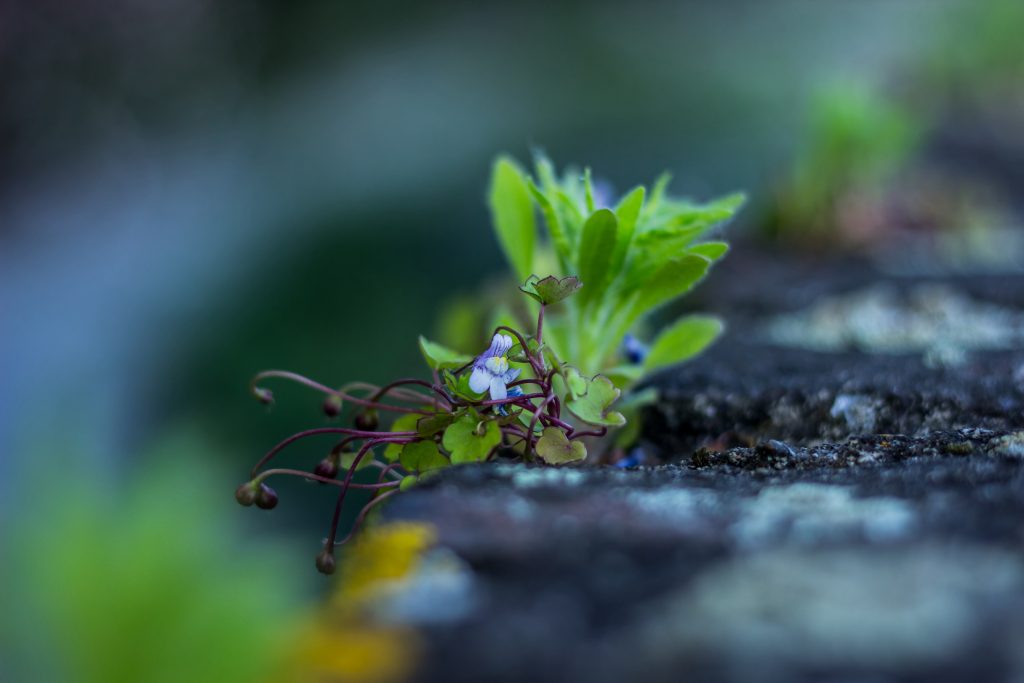 DE-18 IMG-3
An abandoned wall that gave the shelter to this little beauty to make herself pretty.
Poonam Poonam, Ulm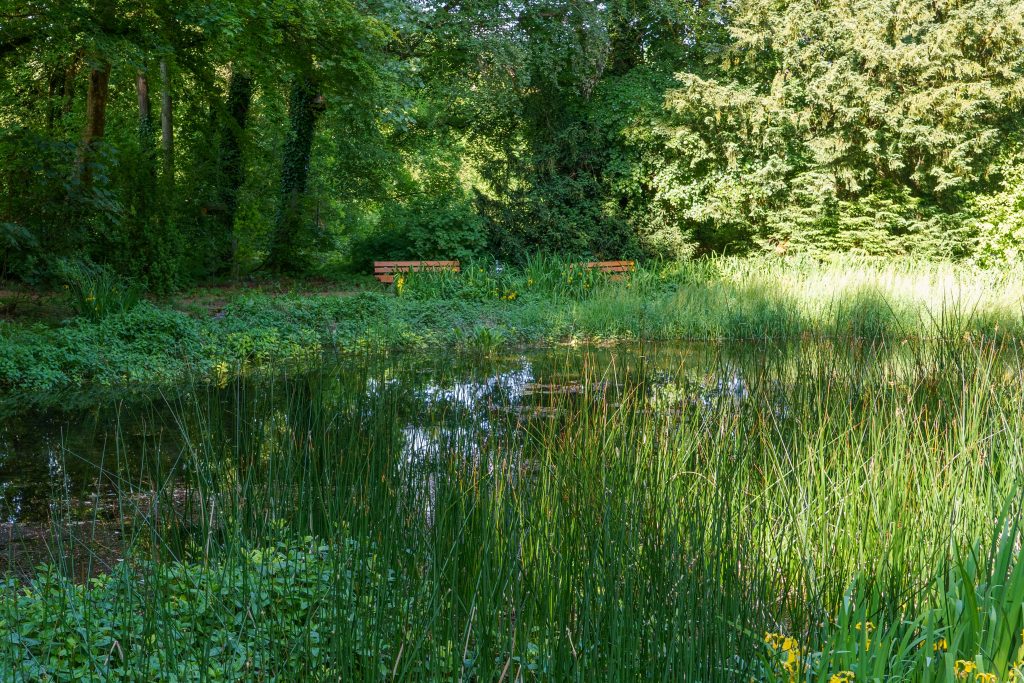 DE-10 IMG-3
This fairytale pond is right on the edge of the large Ulm cemetery. It is surrounded by ancient trees and flowering aquatic plants.
Benches invite you to linger in this calm.
Peter Meyer, Ulm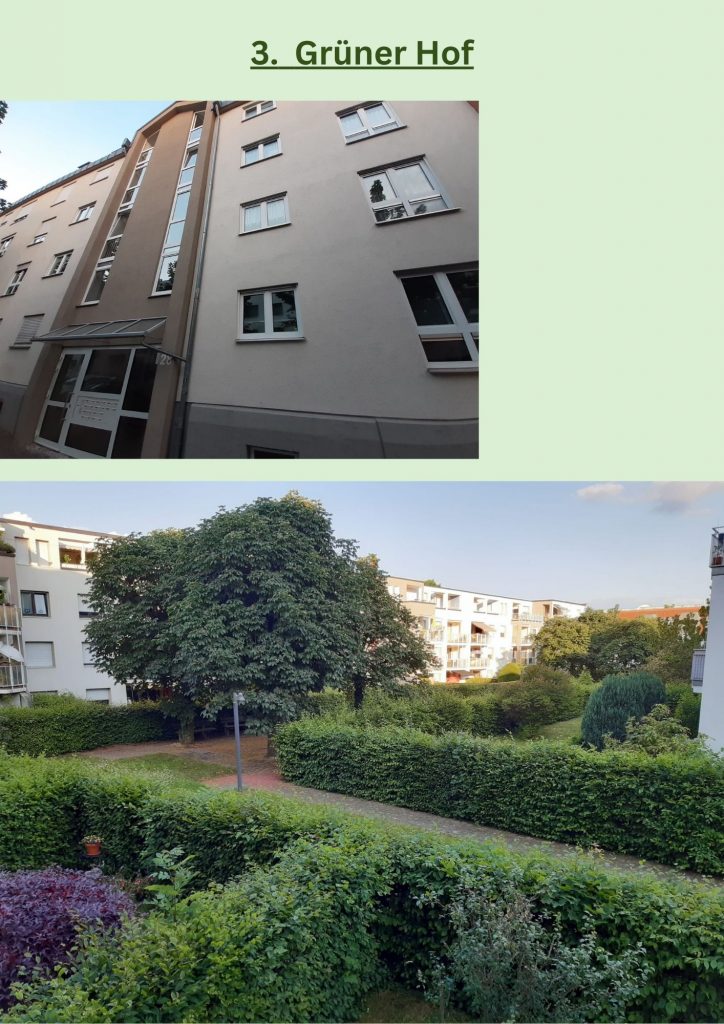 DE-11 IMG-3
This apartment building is located near Willy-Brandt-Platz, almost in the center of Ulm. From the outside you see a tall gray building
on a busy street. But the inner courtyard unexpectedly offers a green oasis that invites you to linger.
Martina Spodareva, Ulm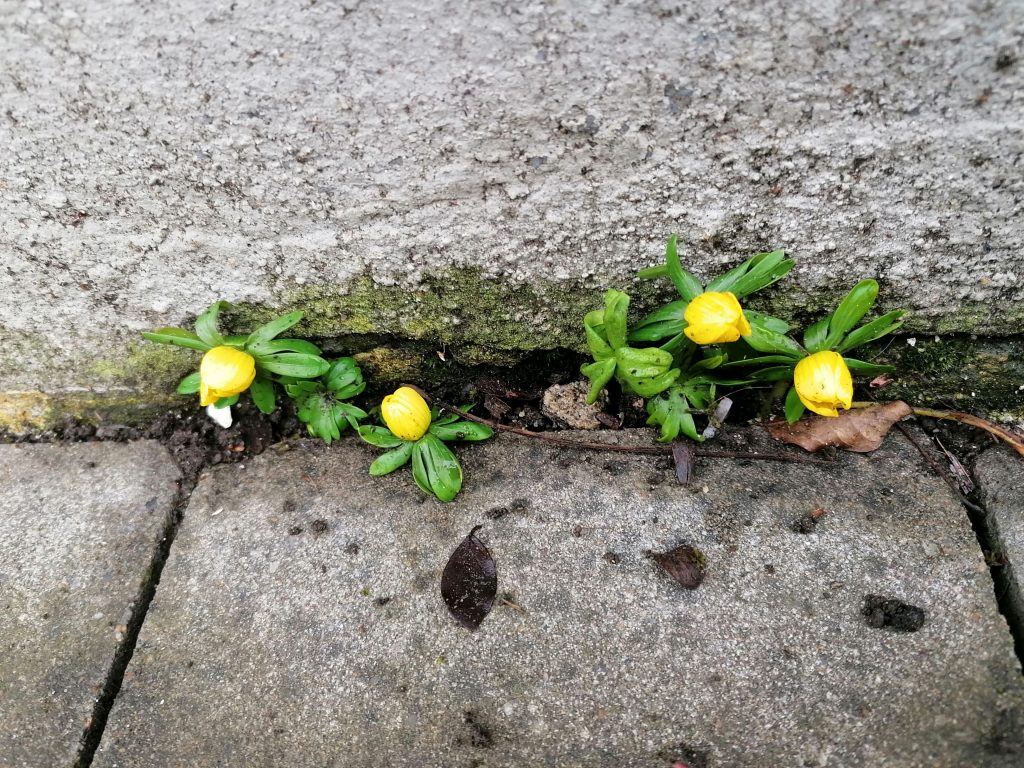 DE-16 IMG-4
During my walks in my neighborhood, I am always surprised how strongly nature resists human efforts to pave over and level
everything. New life blossoms in all cracks and corners and sometimes even bursts the tarred armor of our streets.
Margret Bauer, Ulm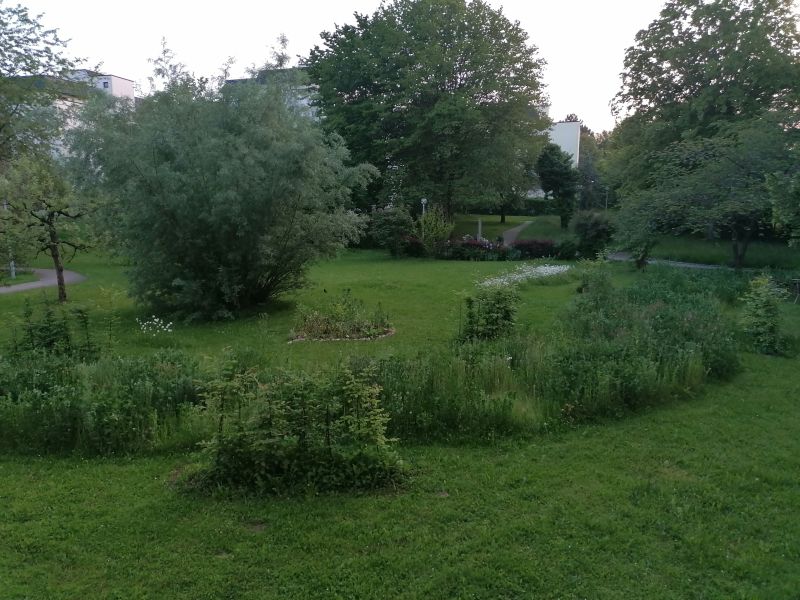 DE-13 IMG-4
View from my balcony.
Living in the green. Away from traffic, quiet location and yet everything nearby, shopping center and streetcar stop.
Ildiko Dobrescu, Ulm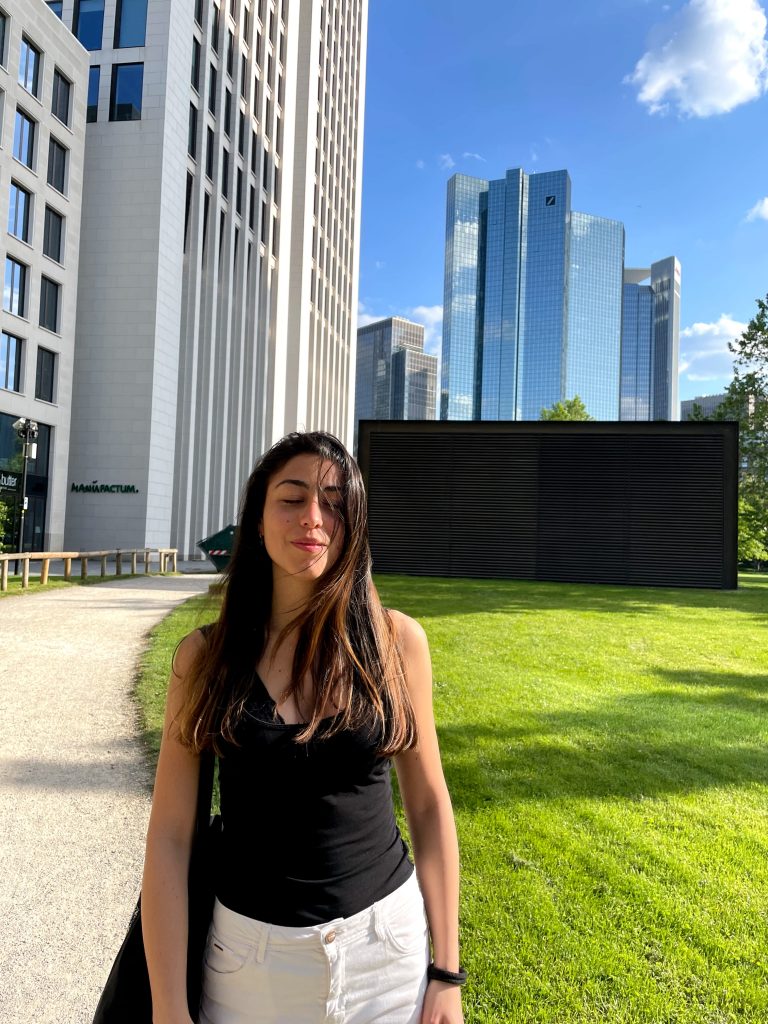 DE-7 IMG-3
Green where you would not expect it: In between the offices and the Opertower, right in the center of Frankfurt, you can find a park. It is the Rothschildpark and it was originally sponsored by the wealthy Rothschild family. To me it was a surprise to find this green oasis between the skyscrapers. It is a place where lawyers, bankers or tourists strolling around the city sit down to have a chat, to have lunch or get their mind to relax.
Mariella Scalera, Frankfurt am Main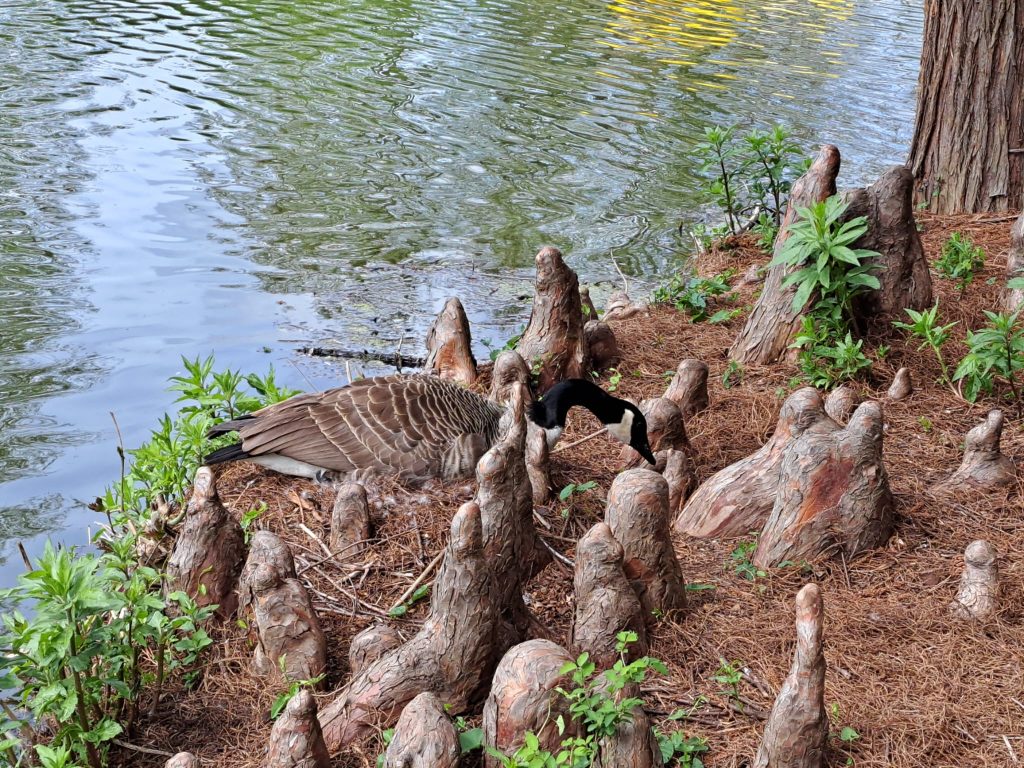 DE-9 IMG-3
Here by the water at the Kutzerweiher in the Luisenpark, small, lush green plants sprout from the dry, barren and root-infested soil.
Janina Cares, Mannheim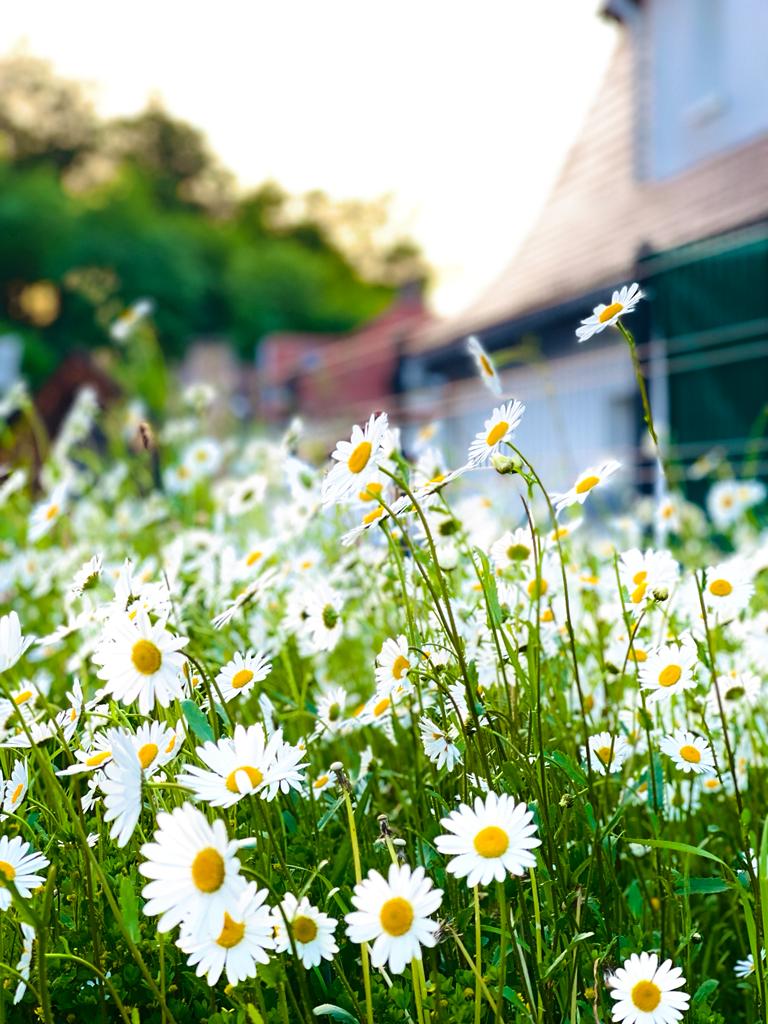 DE-4 IMG-3
Chamomile. From my childhood, I remember endless chamomile meadows. No one plants them, they simply "live" here. This is also Blaustein.
Liudmila Stefurak, Blaustein/Ukraine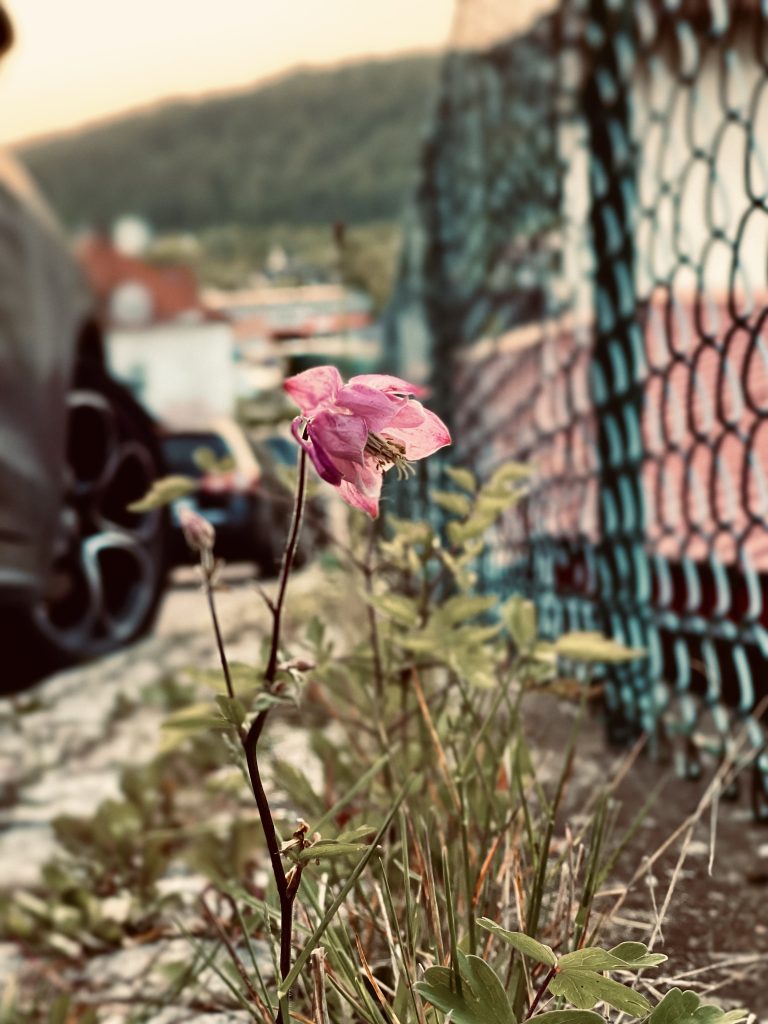 DE-4 IMG-4
Beauty is always nearby. Blaustein.
Liudmila Stefurak, Blaustein/Ukraine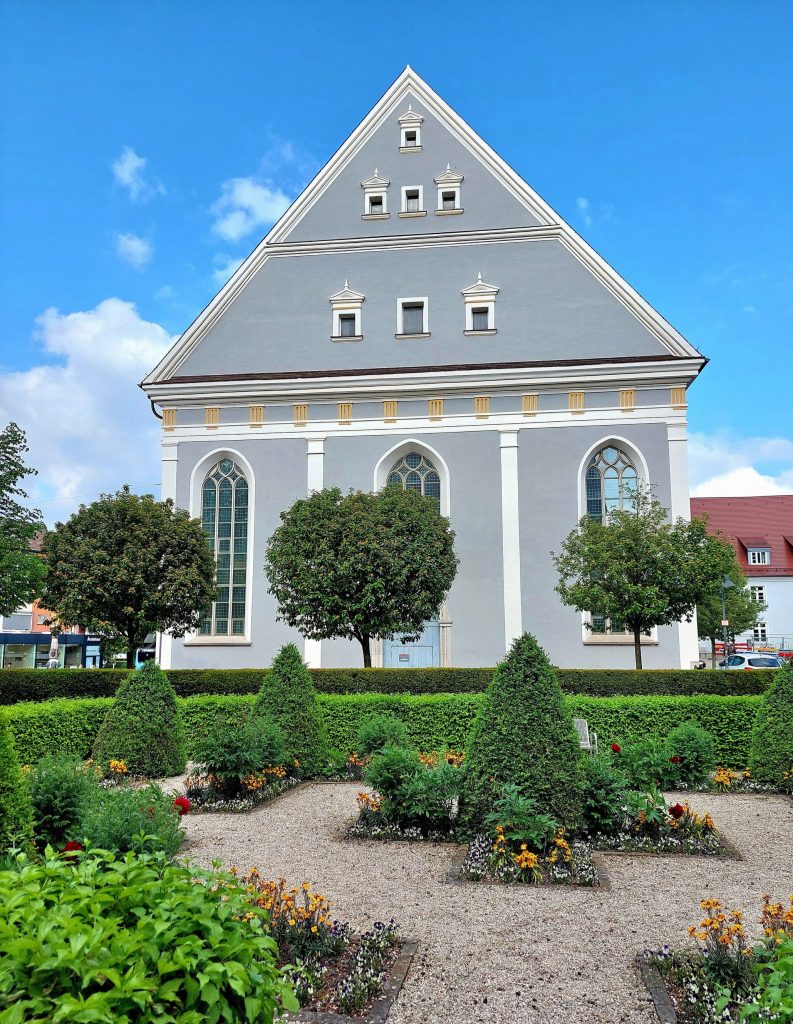 DE-5 IMG-3
At Grüner Hof 5, a small green oasis is hidden among the tall old buildings – the Furttenbachgarten, which is modelled on the garden designed by the famous architect Furttenbach in front of his own house. The Furttenbachgarten is one of four "green rooms" in the urban space of the city, a place for relaxation and meditation in the garden baroque style, with small beautiful flower beds and comfortable chairs, surrounded by a hedge where you can hide from the noise of the wide streets and immerse yourself in your thoughts.
Natalia Smyrnova, Ulm/Ukraine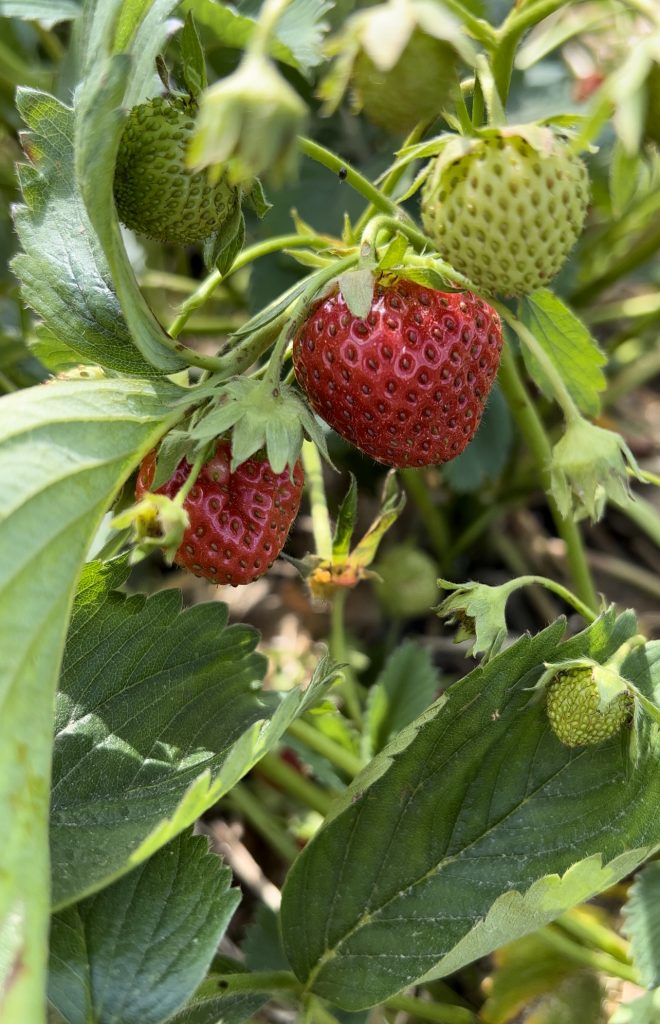 DE-6 IMG-3
I really like the German initiative with strawberry fields where you can come with your child and pick this delicious berry! There are many such places in Ulm.
Olena Konovalenko, Hüttisheim/Ukraine
Hungary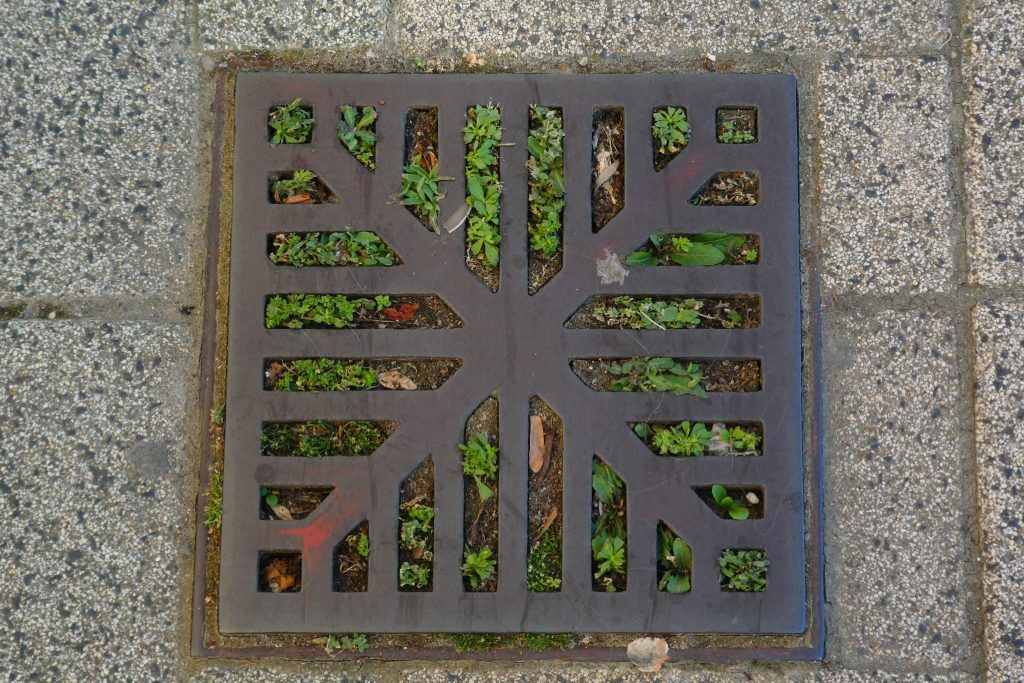 HU-2 IMG-3
A little rain and a little soil- these are enough for plants to begin their life. There is so many life power in the green plants!
Gárdonyi Adrienn, Budapest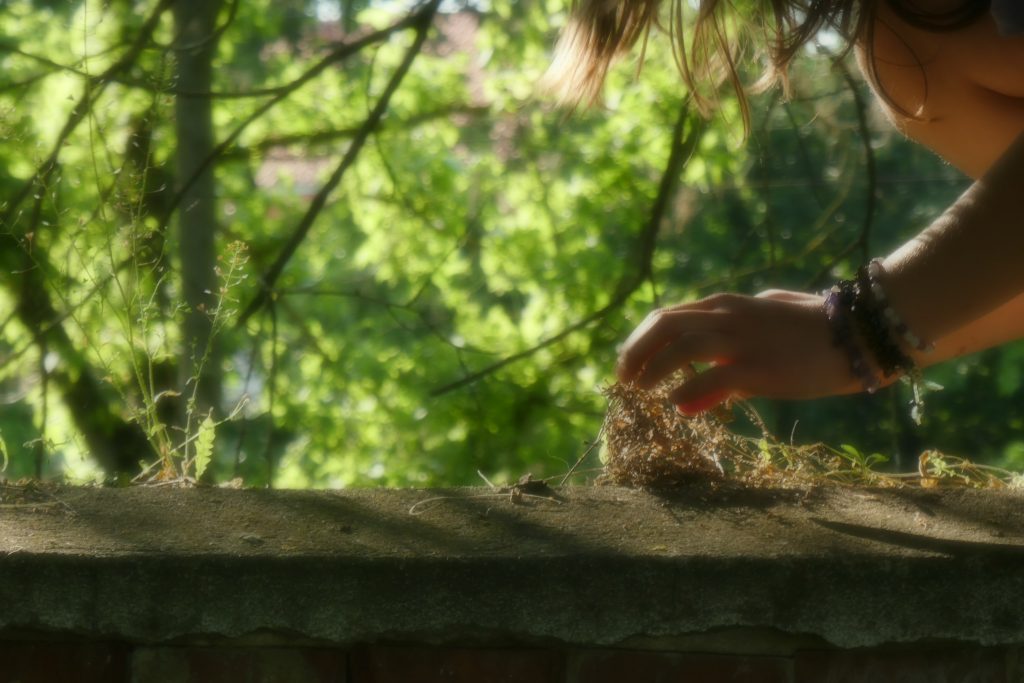 HU-1 IMG-3
I like to explore unknown places in the city with my friends. Once we climbed a brick wall and were very surprised because on the
other side of the wall there were beautiful bushes and flowers. It was like the garden of a fairytale castle!
Piroska László, Debrecen
Italy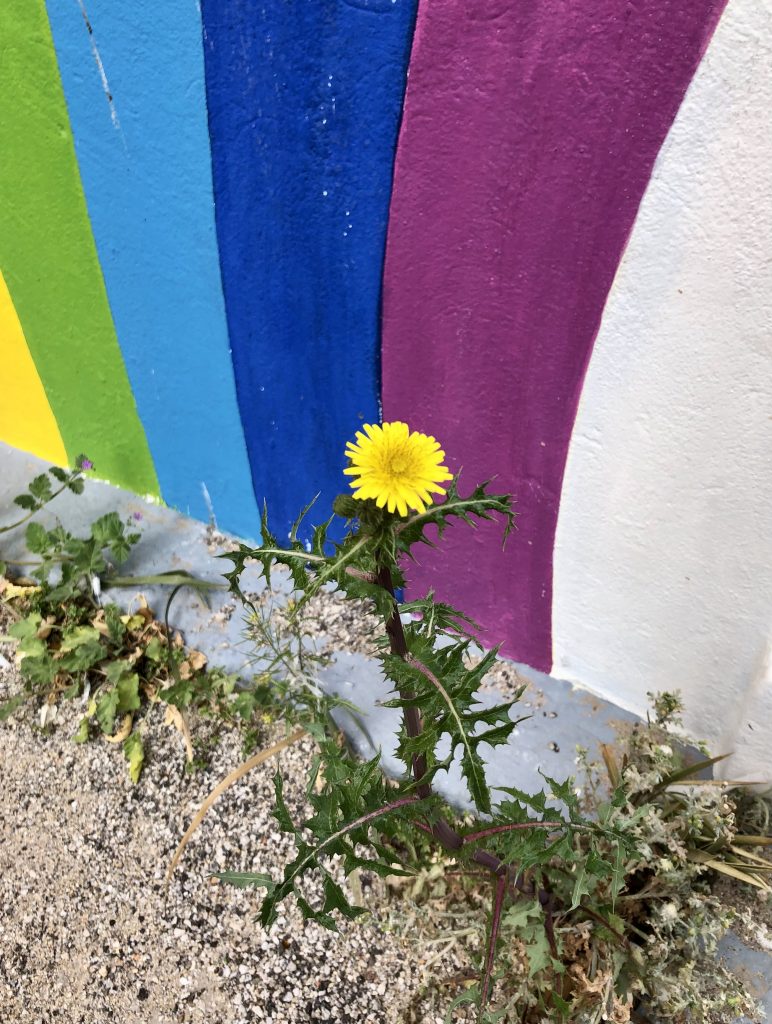 IT-1 IMG 3
60 steps Porto Torres – a project under development. Green persists, from asphalt and artificial colours. Vegetation succeeds in covering any ugliness left behind with scattered rubbish. My wish is that the tendency to ruin will be reversed into a tendency to rebuild following the models that mother nature offers us.
Angela Louise Pudda, Porto Torres
Poland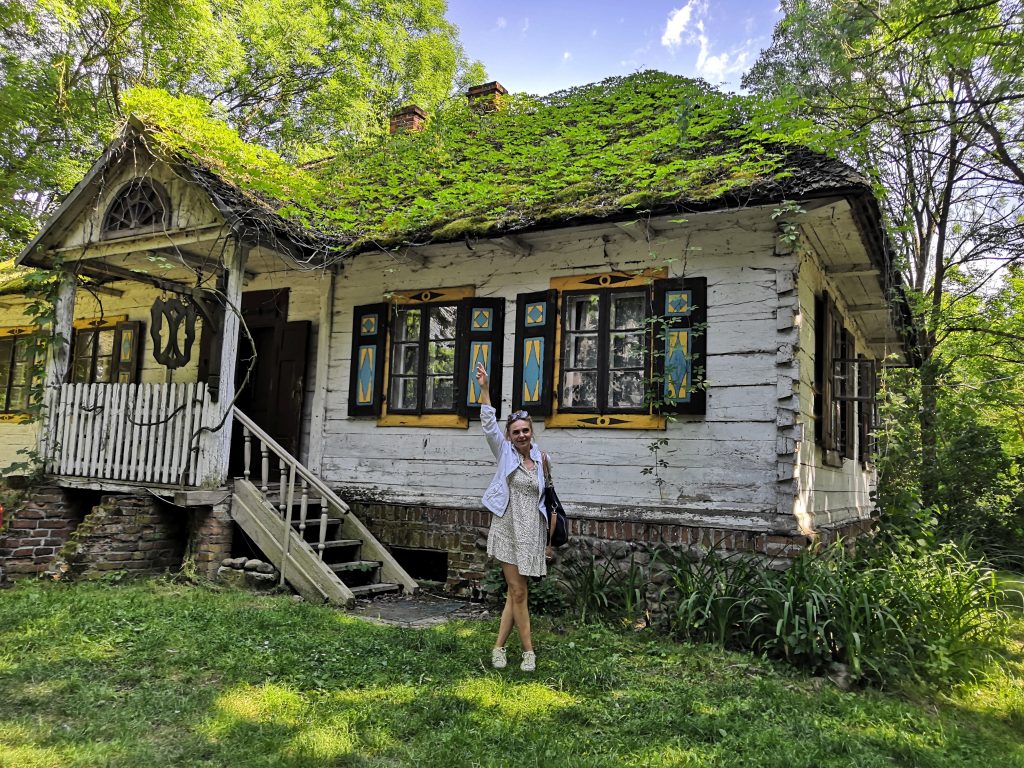 PO-1 IMG-4
The act of the professor to preserve for generations 14 old houses located around the estate attracts many people who help him
with funds, materials, old objects of Polish life and culture, many paintings, etc.
On my last visit to the museum, I discovered that on the roof of one of the houses, there were many grasses, flowers, and felizas –
small twigs from which trees grow. It's very unusual, but it's beautiful.
Beata Chacińska, Siedlce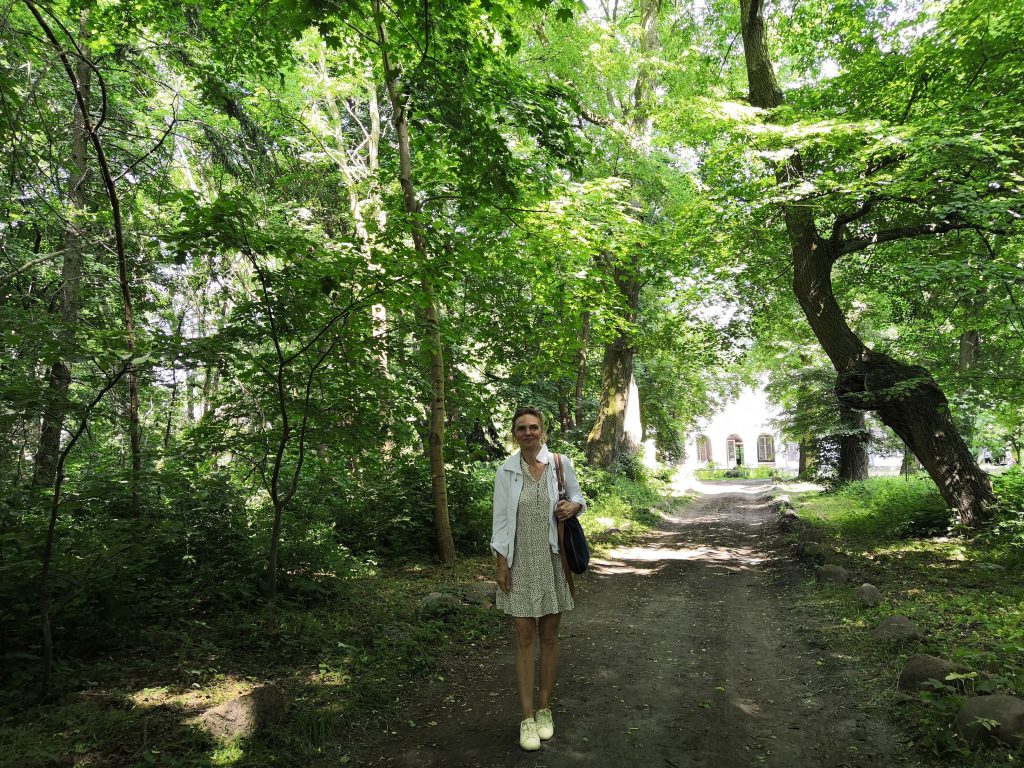 PO-1 IMG-3
One interesting place in the area of the town of Siedcle, Poland, is the private museum of old wooden Polish architecture,
established by professor of humanities Marek Kwiatowski in an eighteenth-century manor house in the village of Nowa Sucha. Prof.
Kwiatovski died in 2008, and after the death of his wife, the museum will remain for the Municipality.
Beata Chacińska, Siedlce
Romania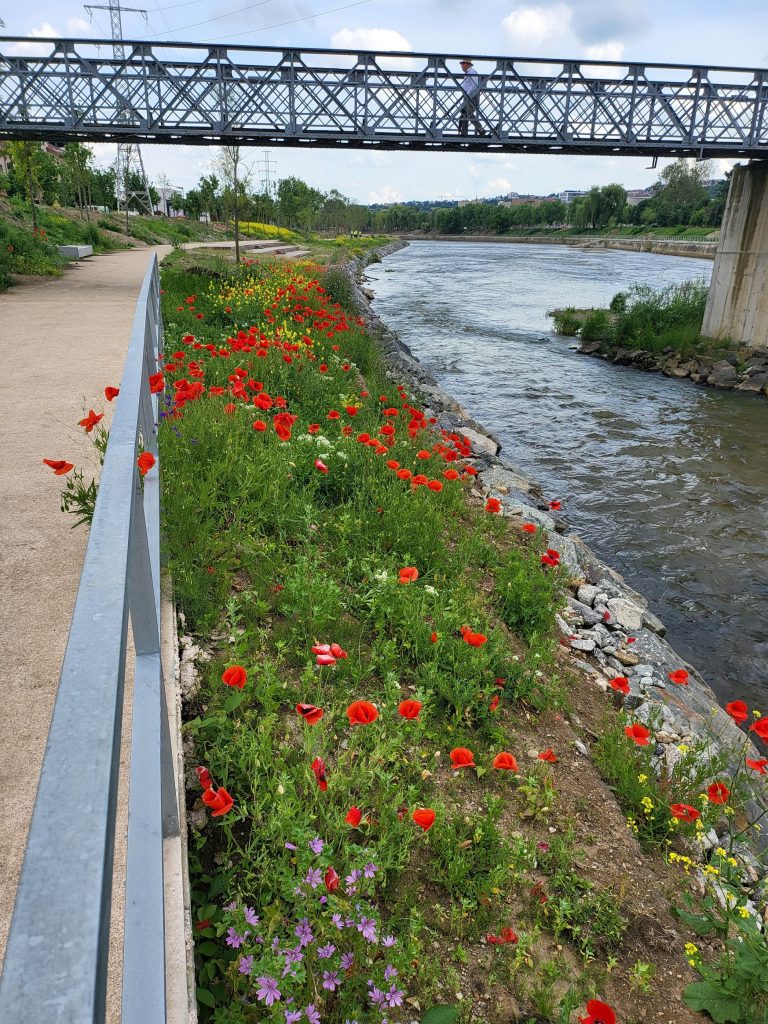 RO-13 IMG-3
In my city, Cluj Napoca- Romania, this year, the works have started on the development (bike paths, pedestrian areas and green
spaces) of the banks of the river Somes (bike paths, pedestrian areas and green spaces). Somes river crosses the city from west to east. Although the works have not been completed and the green space has not yet been landscaped, two days ago when I passed by I was pleasantly impressed by how nature manages to make its way clear even in the most unfavourable conditions. Wild flora invaded the area: various grasses and wild flowers (poppies, rape, chicory. etc.) I felt like being on a meadow at the edge of a forest.
Elena Muste, Cluj Napoca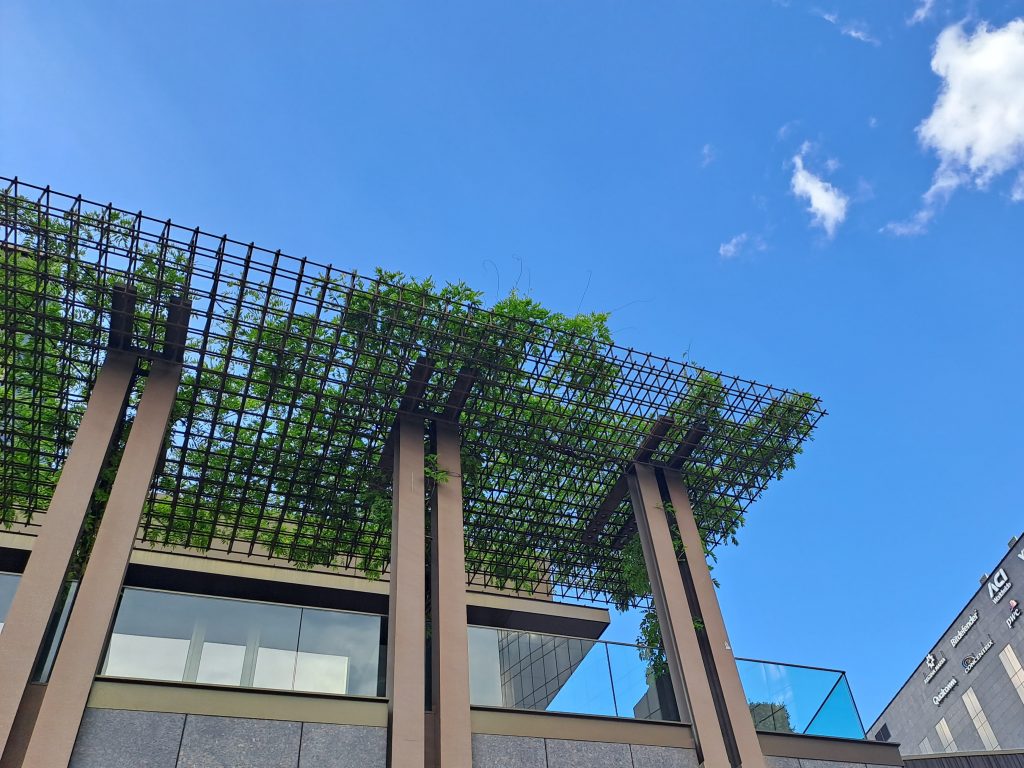 RO-17 IMG-2
In the summer, when the sun burns and the temperature rises, sitting in a shaded place is pleasant. And when the shading is done
naturally, "green", it's wonderful. Such a place can be found in a shopping center.
Dragan Doina, Timisoara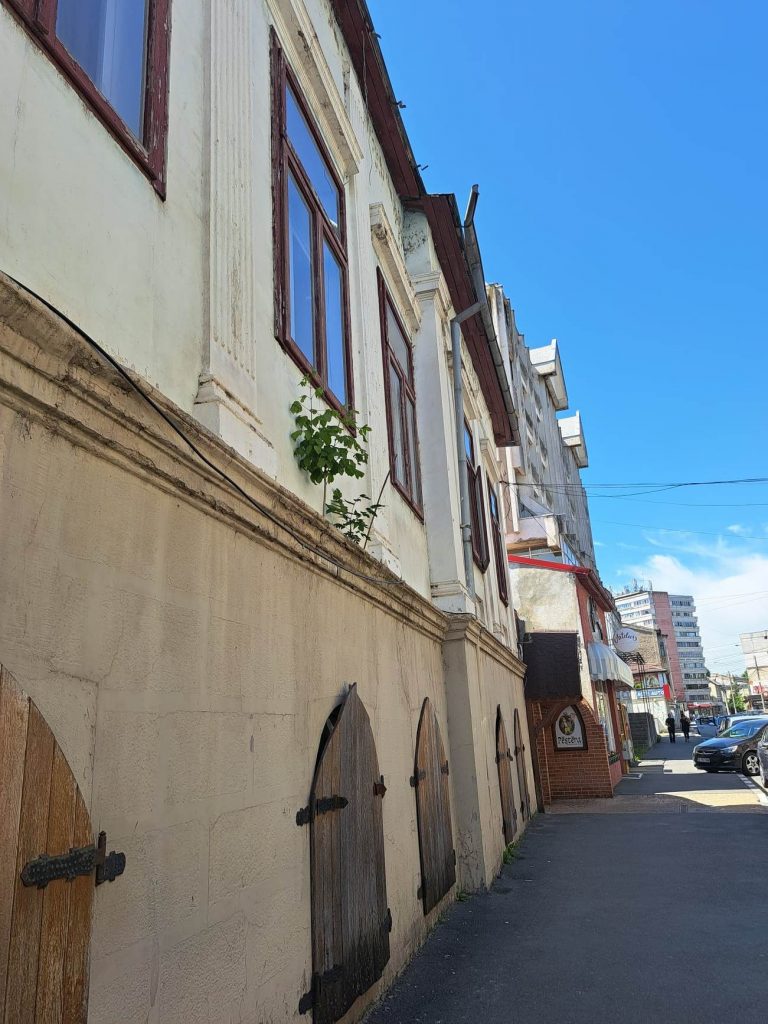 RO-4 IMG-4
The power of will
Nature is trying to save itself (and us). Man and nature can be friends.
Tudosia Isofache, Galati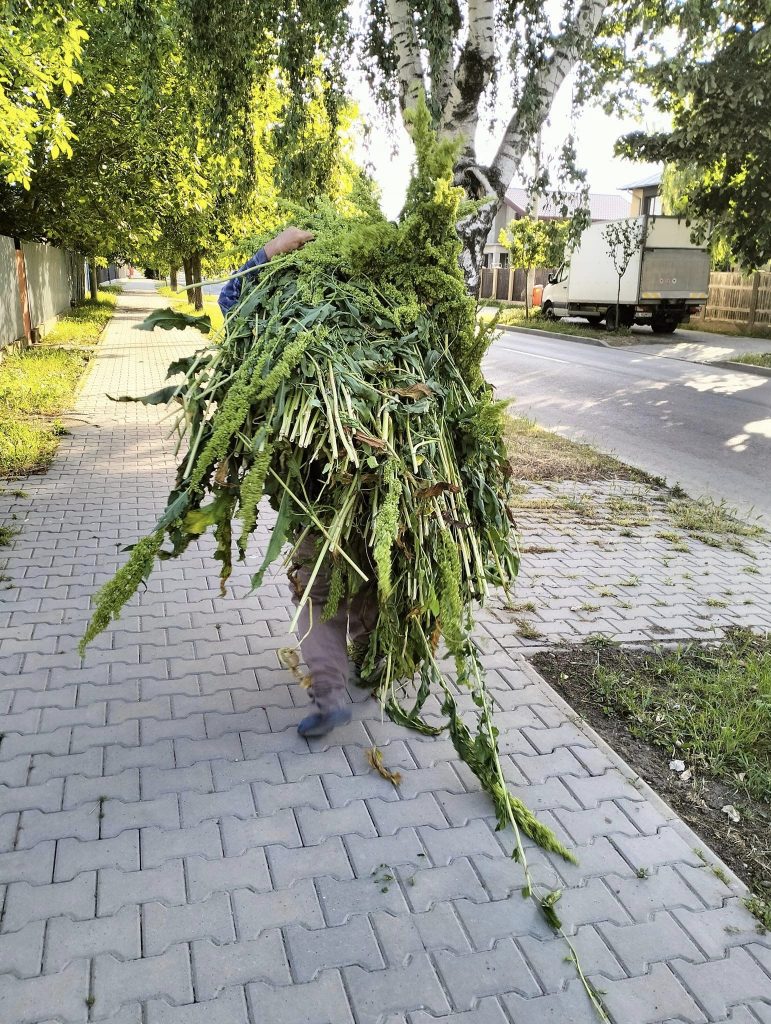 RO-5 IMG-4
When the green overwhelms
In Tecuci, a small provincial town where my mother lives, a neighbor periodically cuts the grass that grows on the side of the street
and feeds his two goats.
Violeta Pușcașu, Galati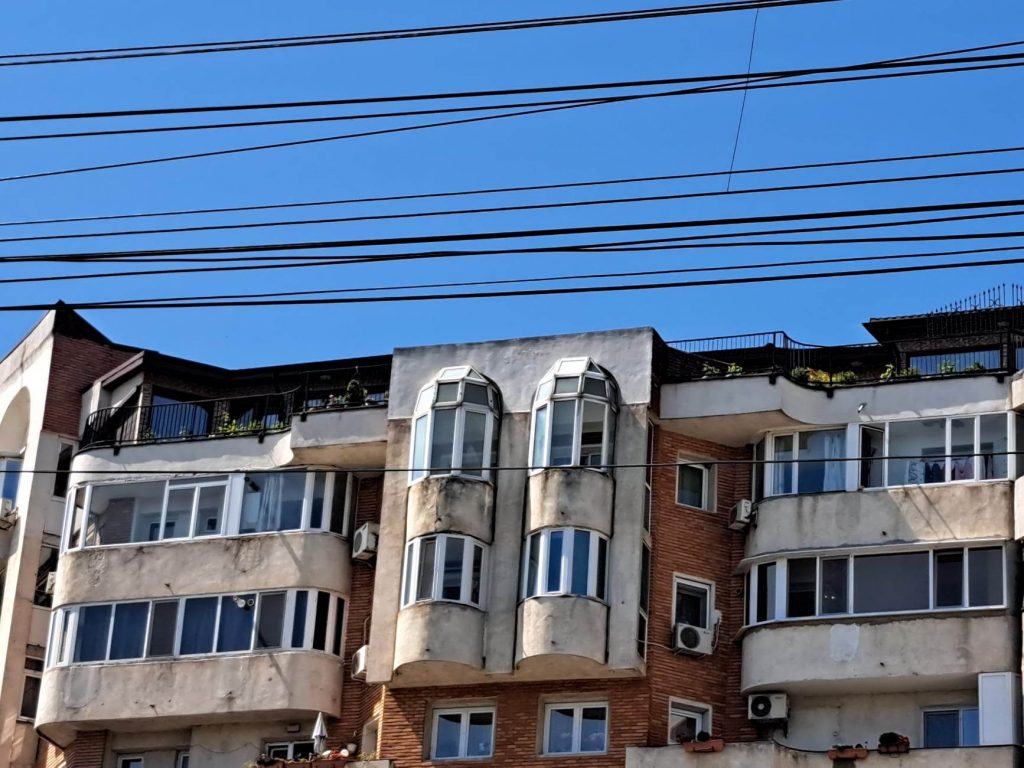 RO-7 IMG-3
The garden from the 10th floor
Even in a place that does not seem to be conducive to a place with greenery, the nature-loving man will always ênd ways to break the
gray of concrete constructions with a splash of color, taming the heat of the sun and generating a breath of fresh air.
Mioara Ardieleanu, Galati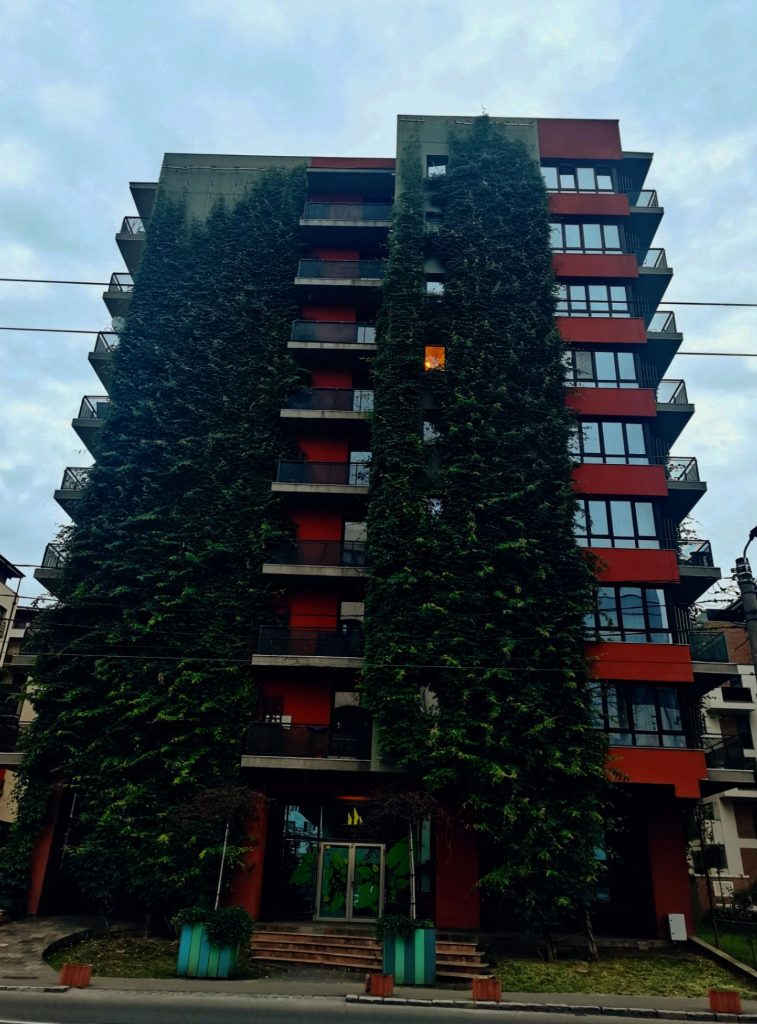 RO-14 IMG-4
In this photo is a green oriented students dorm. I chose this place because it is demonstrated that nature can improve your iq. Also
plants can bring peace, silence and they are strategically placed here to teach us how to live a balanced life. As flowers, we need to
drink water, to have access to sun and of course we need love.
Diana Cretu, Cluj Napoca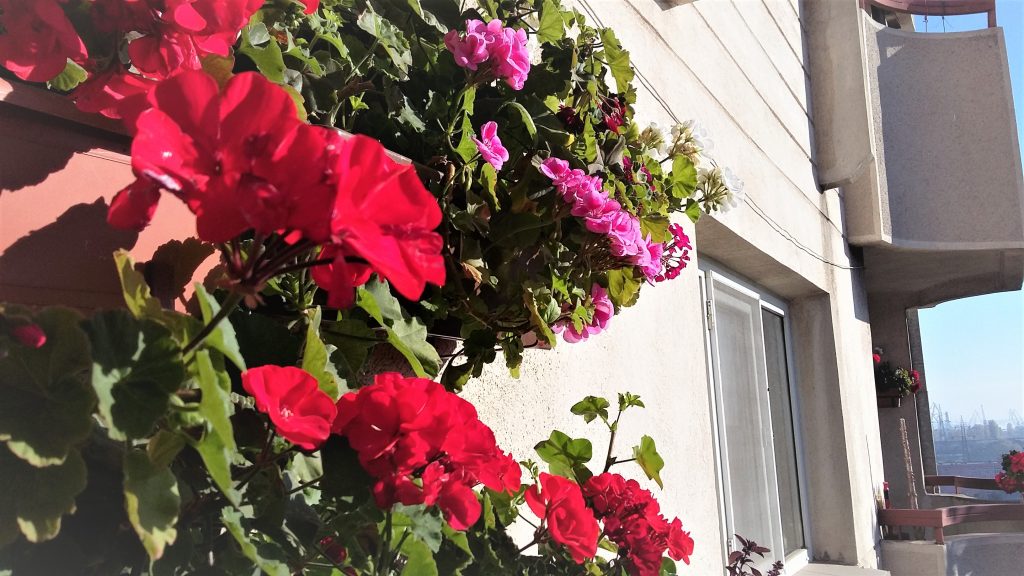 RO-3 IMG-3
The city of Galati has a population of 270,000 inhabitants and insufficient public green spaces, but the inhabitants of Galati are great lovers of flowers, which they grow in gardens, terraces, balconies, in front of their block of flats or houses, or wherever they find a little space for such things. I grow flowers on the terrace and they are wonderful. I like to give flowers in pots to contribute with "a drop of green" to increase it in the city.
Danaila Florica, Galati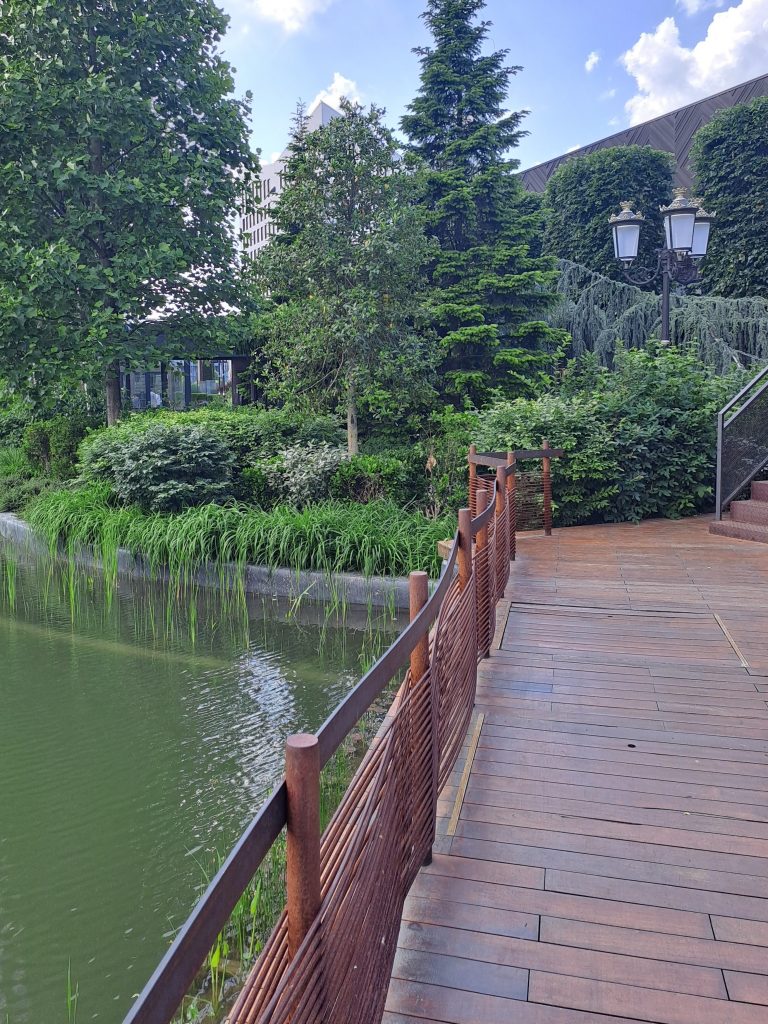 RO-12 IMG-3
A green oasis in the city within the city! I mean Iulius Town in Timisoara. A joy for the eyes and soul – a joy for children, adults and grandparents!
Ana Zlibut, Timisoara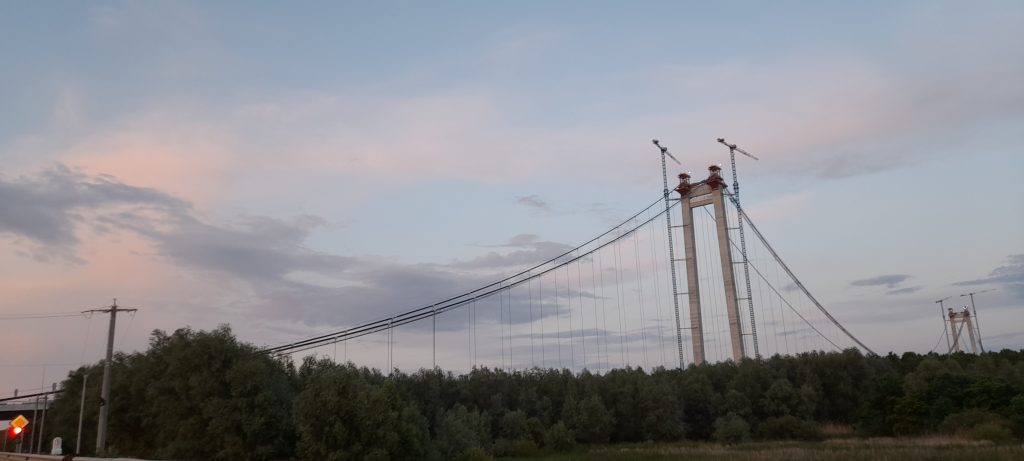 RO-11 IMG-3
The suspension bridge over the Danube A suspension bridge over the Danube is under construction between Galati and Braila, which will be put into use this year, being the third largest bridge in Europe. The bridge is surrounded by greenery, it will be an attraction for us and shows our concern for a modern future.
Roxana Maria Banacu, Galati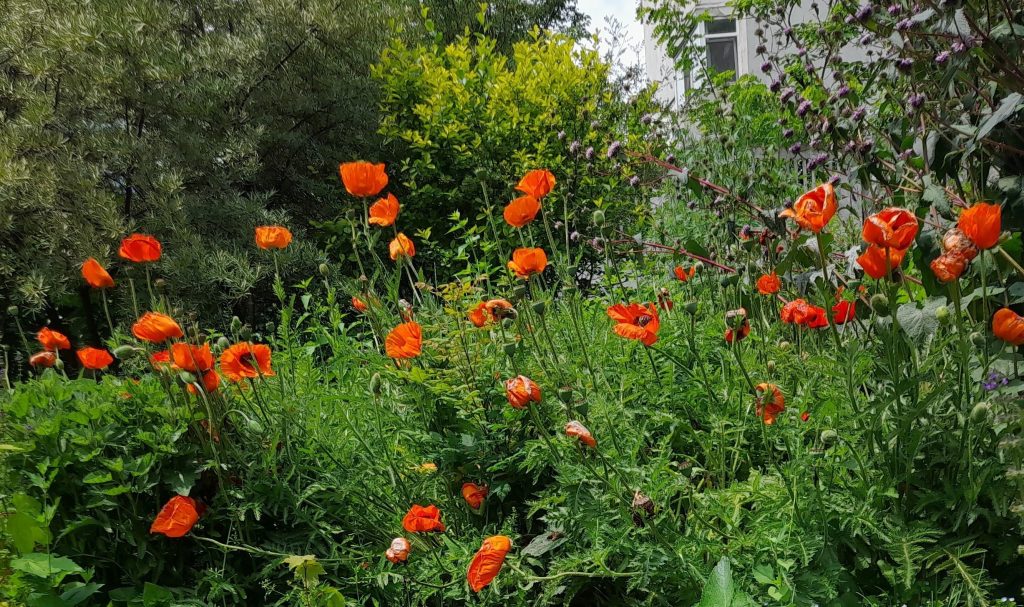 RO-2 IMG-3
Everywhere in Galati there are many landscaped spaces with lots of greenery, but I noticed near my block a landscaped place, cared for with wild plants. The poppy is a wild plant and it grew on the edge of a block, in the middle of the city. Few people they set up a special place for him to beautify the place.
Stefan Bacanu, Galati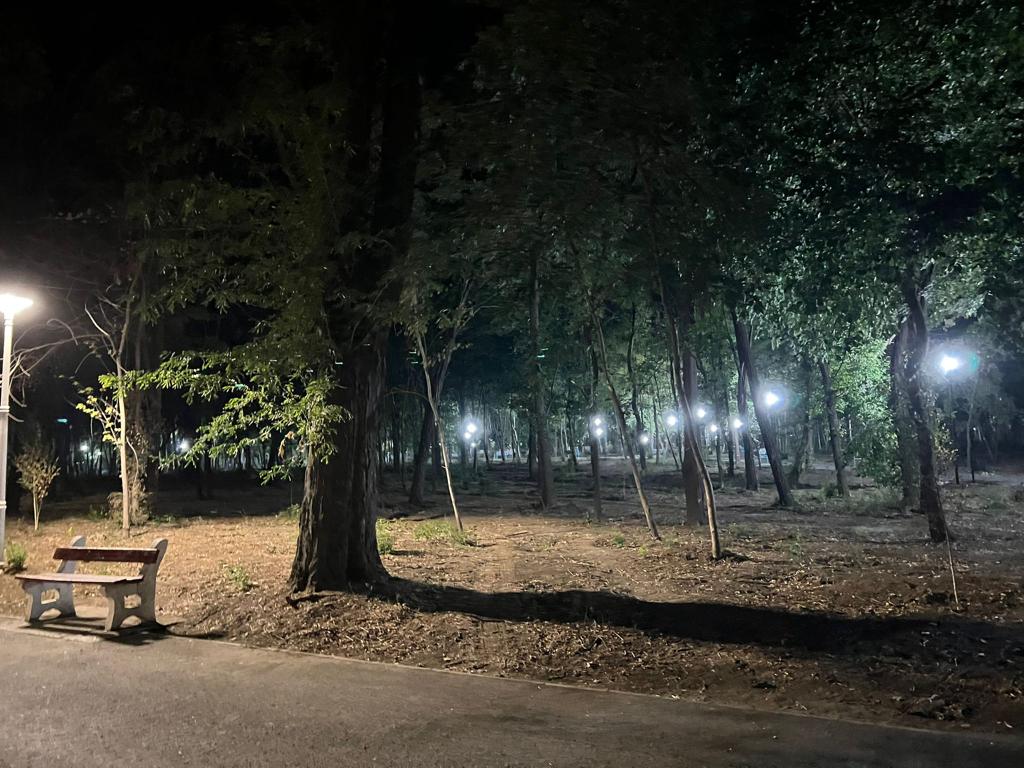 RO-1 IMG-3
Street lights looking like tiny fire flies shows the urban jungle like a forest in the middle of nowhere, where all your thoughts gather and you feel eternal just like trees.
Ana-Maria Militaru, Galati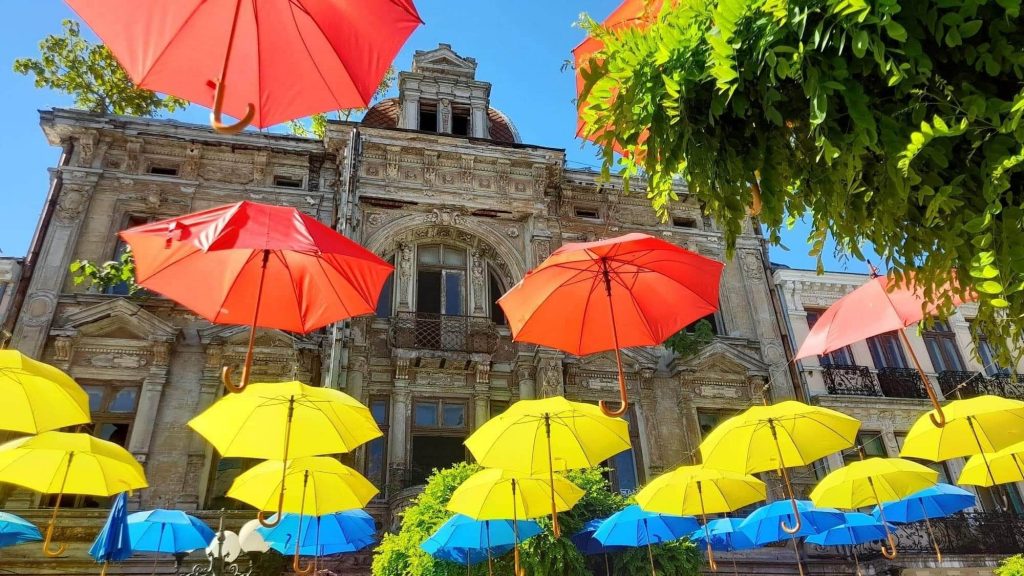 RO-18 IMG-3
On Mihai Eminescu Street, in the Old Center of Braila, there is a building that is going to be renovated and I thought it was interesting that a tree has grown on the roof. Green where you don't expect it!
Daniela Ibanescu, Galati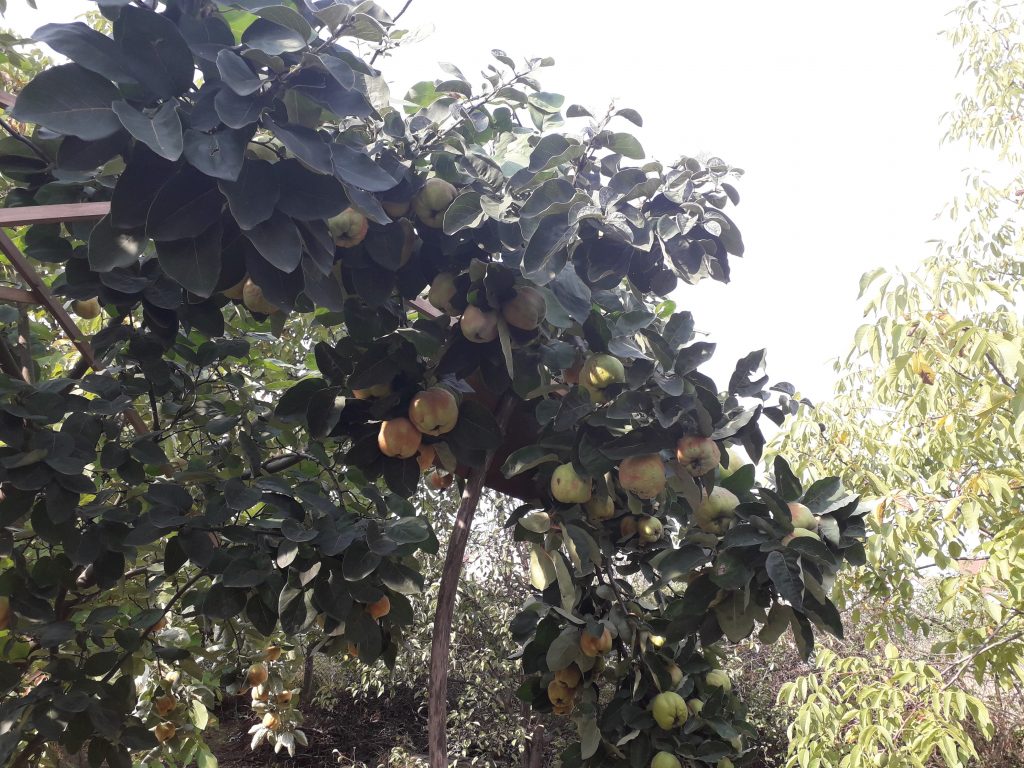 RO-10 IMG-3
In my opinion, fruit trees planted in the right place in an urban environment are aesthetically valuable and bring environmental benefits because they mean fruit that is eaten locally. How beautiful is an apricot tree that blooms in early spring or how good are the quince trees in my tree, see photo.
Elena Bardac, Timisoara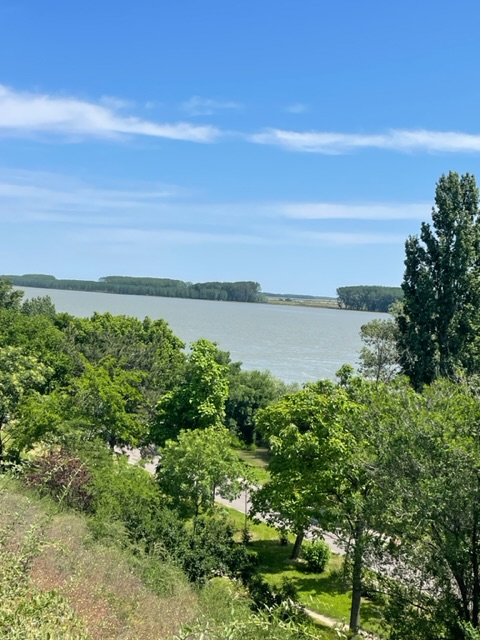 RO-15 IMG-3
Danube Cliff with a wonderful landscape and can enjoy the beauty of a truly generous nature.
Bira Verman Mariana Daniela, Galati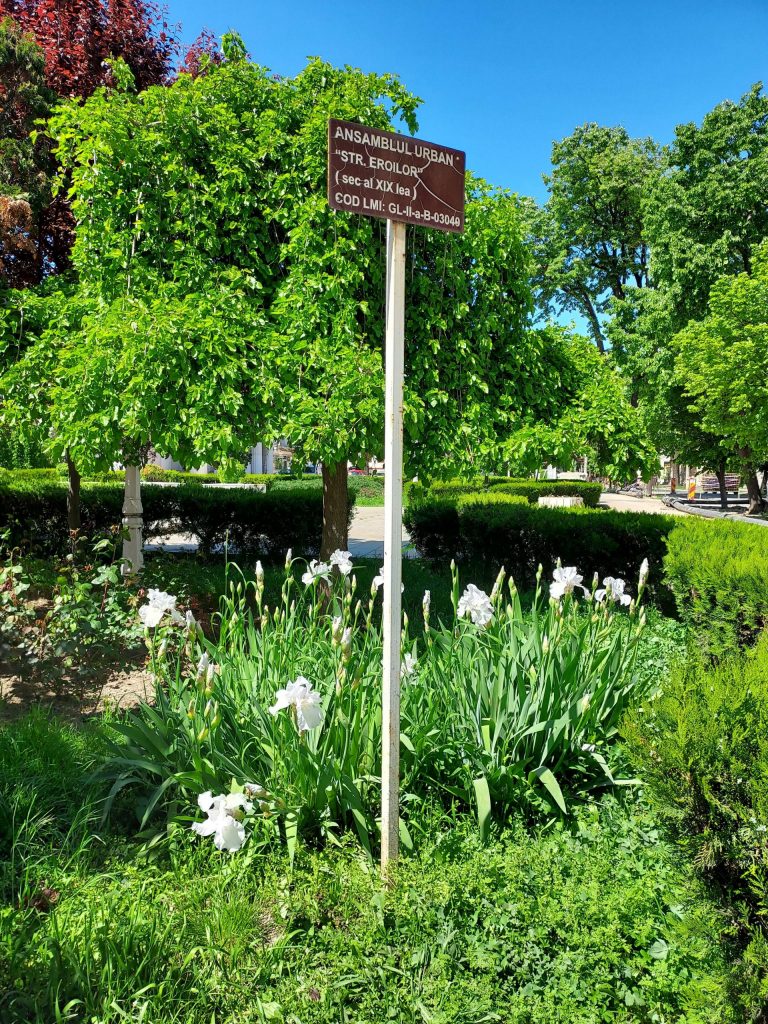 RO-8 IMG-4
Urban ensemble: Here, at the crossroad of Domnească Street and Eroilor Street a street sign tells us "Urban ensemble, 19th century, Eroilor Street". This year, the City Hall surprised us by planting beautiful white iris, because in our city the historical monuments are neglected. You can pass by without stopping and admiring these flowers!
Gabriela Negutu, Galati
Slovenia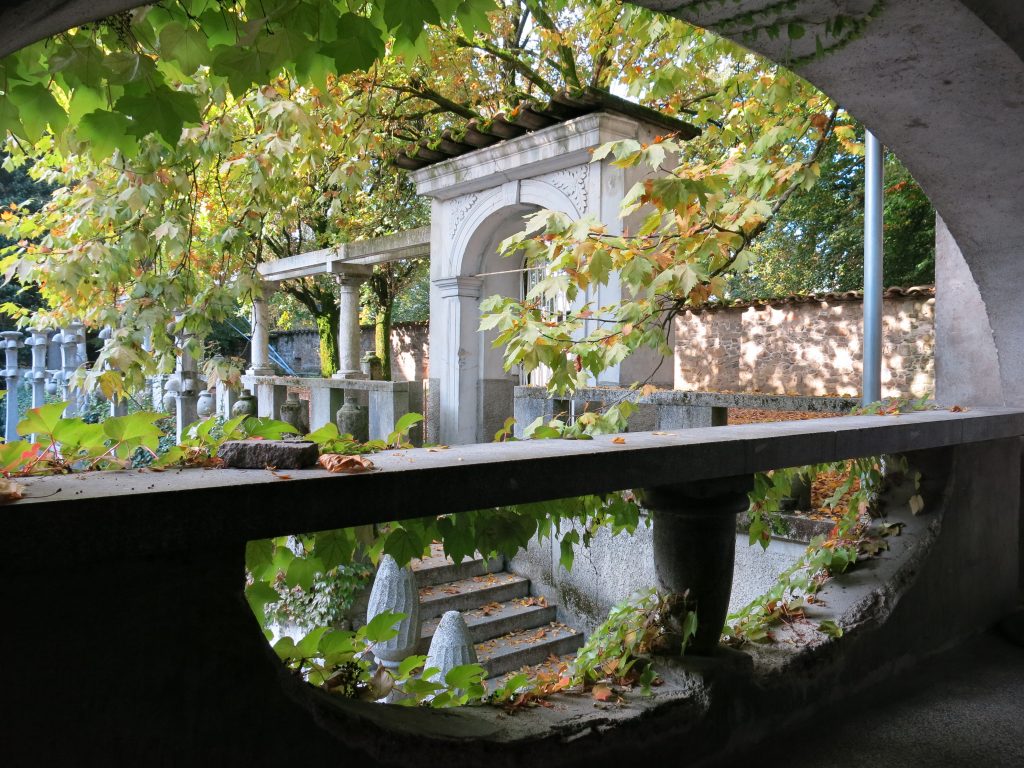 SLO-2 IMG-3
The city of Ljubljana- and indeed the whole Slovenia- is green named the Green Pearl of Europe – parks, roads and streets bordered with trees, two hills and marshes located practically in the city itself- but there are built places where you don't expect greenery, ie. Križanke, a former monastery. When the architect Jože Plečnik converted the area into a summer theatre, he was careful to preserve the trees on both the inner and the outer side of the walls surrounding the theatre.

Vida Vilhar Pobegajlo, Ljubljana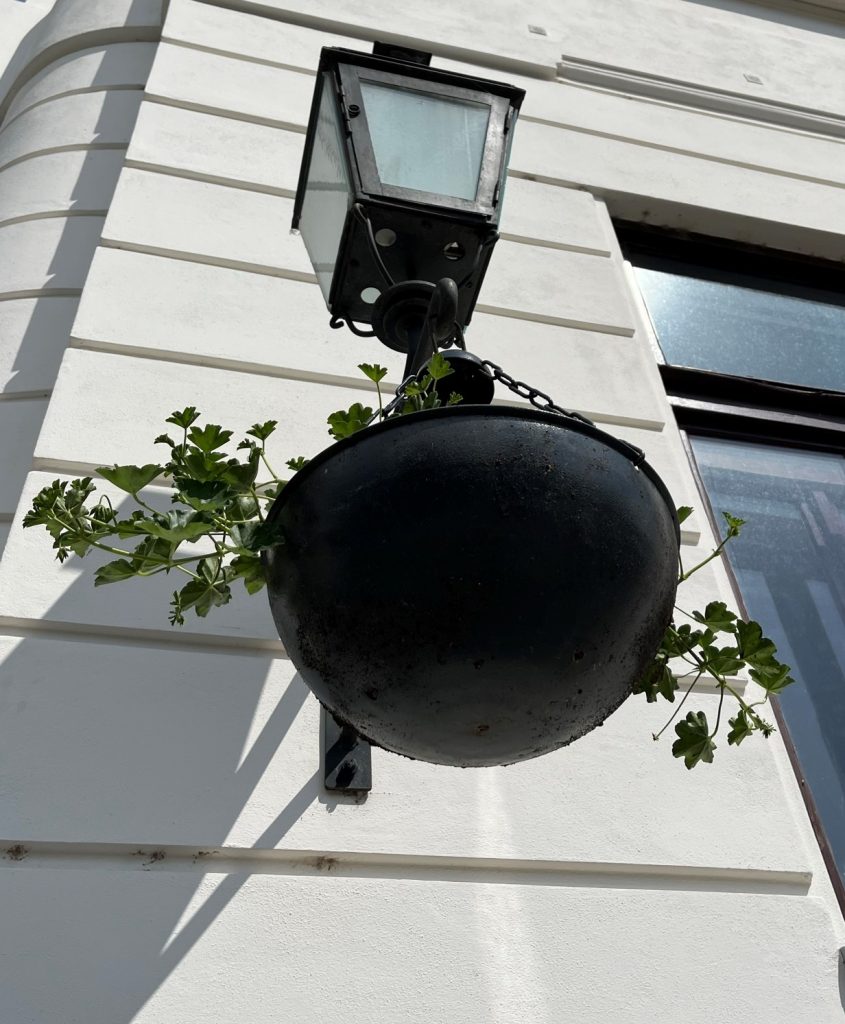 SLO-1 IMG-3
Green light. When you look up and a green flower hangs on the bright facade of the old bourgeois house, which will bloom over the urban promenade during the summer.
Alenka Gabriela Ščuka, Sežana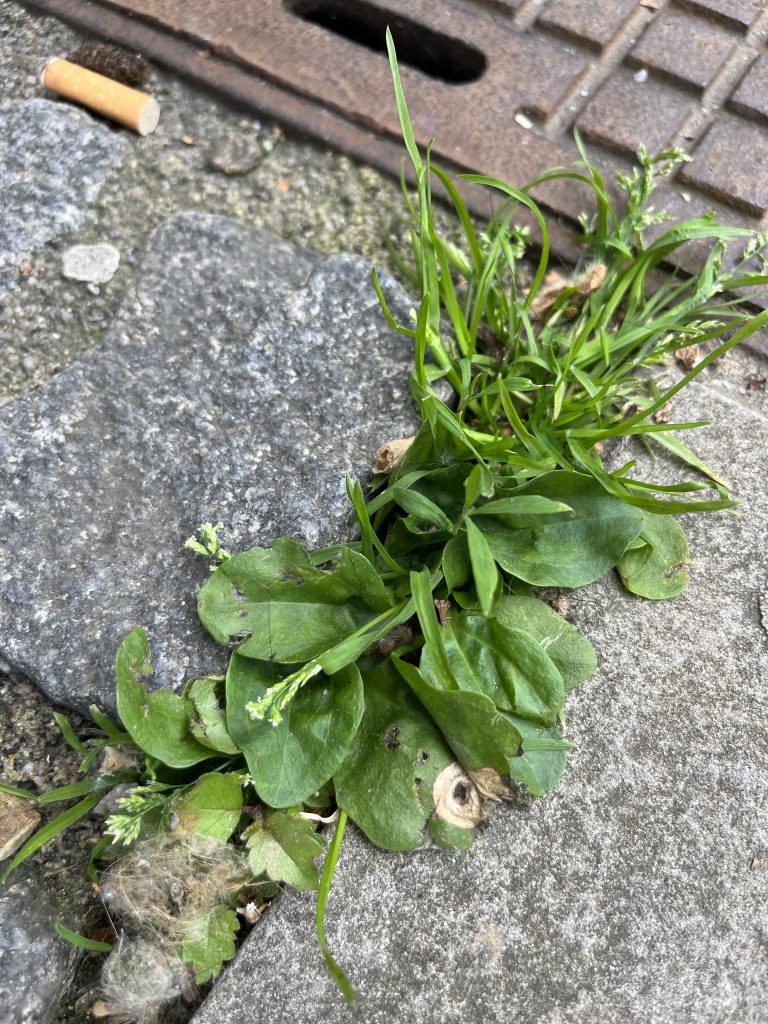 SLO-1 IMG-4
Green that defies asphalt and cigarette butts. A lot of feet have trodden on this little grass, but it is still trying to take care of the green glimpses on the sidewalk.
Alenka Gabriela Ščuka, Sežana
United Kingdom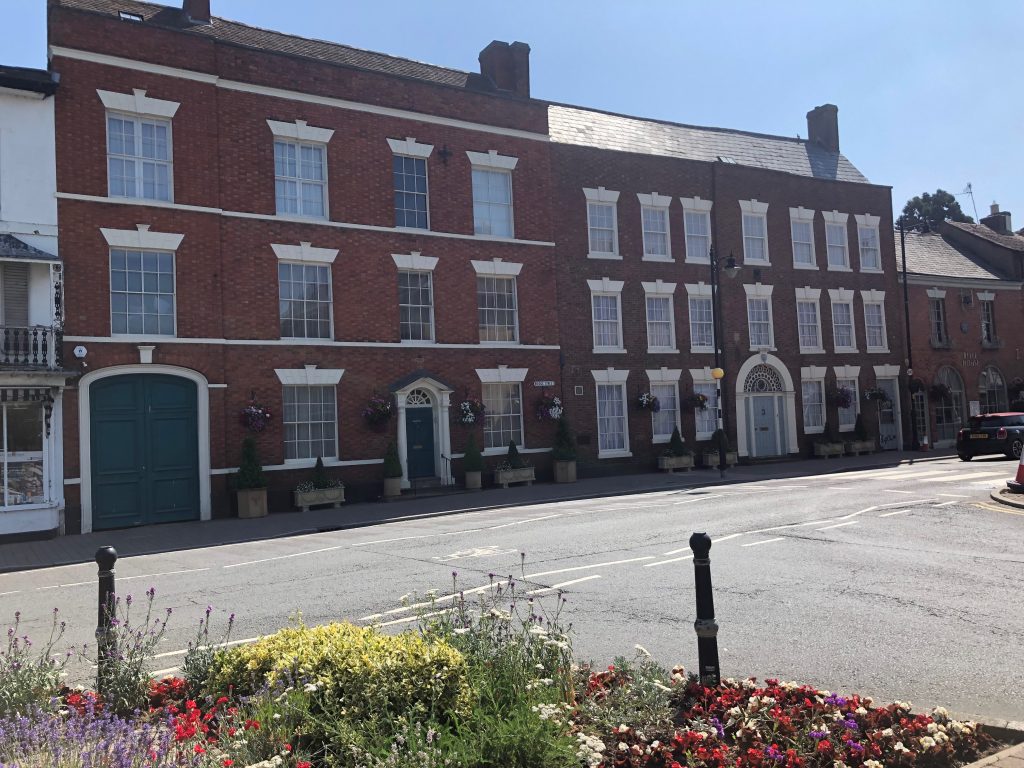 GB-1 IMG-3
The busy crossroads in Pershore High Street where flowers are changed all through the year, and at Christmas there is a huge real Christmas tree with lights
Auriol Ainley, Pershore
Ukraine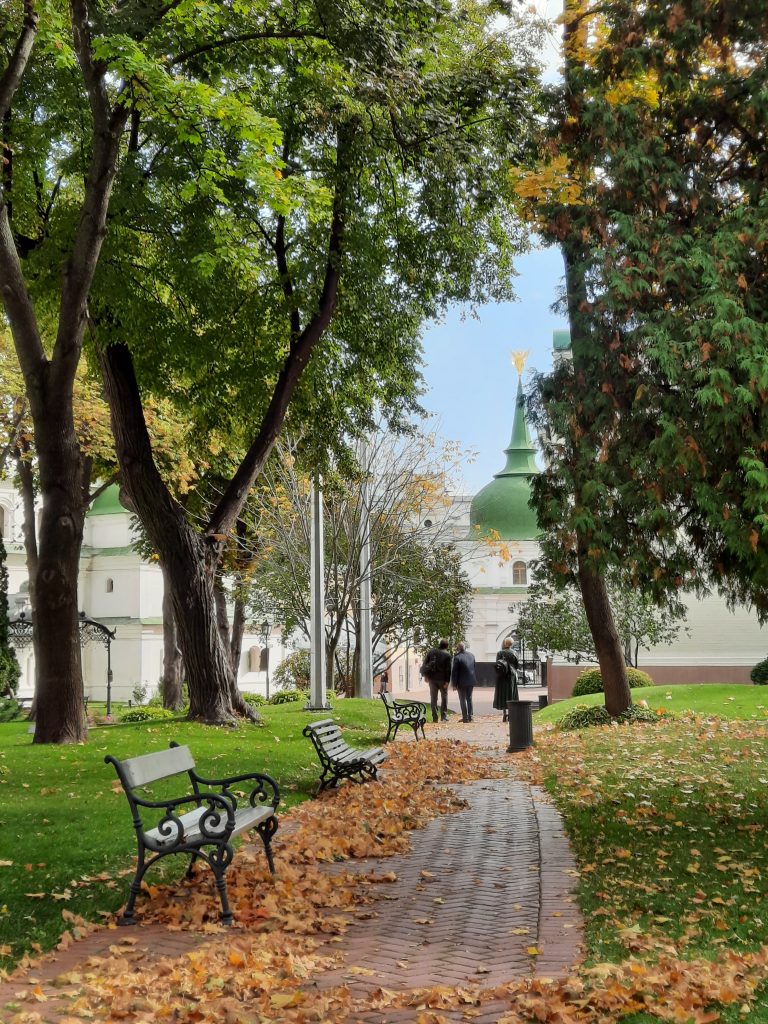 DE-14 IMG-4
Sophia Cathedral in the center of Kyiv. It is pleasant to visit the temple and walk along the beautiful and well-kept paths near it. You feel peace and tranquility.
Natalia Rukavitsyna, Günzburg / Ukraine